The ultra-conservative, Liberal-party approved, homophobic SDA union has come under fire again after preventing their own members from voting in the Young Workmate of the Year Award – because their members were voting for one of their most vocal critics.
That critic is SDA member and Coles worker Duncan Hart, who is currently at the Fair Work Commission challenging the incredibly underhanded, pay-slashing deal that the SDA and Coles cooked up together. We've written before about this deal, which will see some workers worse off by up to $15,000 a year, but it's now becoming depressingly clear just how far the SDA will go to silence its own members on the issue.
As reported by Red Flag, Hart was nominated by his peers for the award, which is measured by online voting from SDA members. Within just hours of appearing on the list, Hart had rocketed up to fourth place on a surge of votes from members angry at their impending pay cut – and that's when the SDA stepped in to shut down voting. We wouldn't want our workers voting for somebody who is criticising us, after all!
This kind of denial is unfortunately not a new tactic from the SDA. After the news of their underhanded deal with Coles started to hit the papers, the SDA realised they needed to be seen to be "listening", so they acted swiftly and decisively in the most efficient way possible — by leaving a few survey documents in lunchrooms for workers to fill out.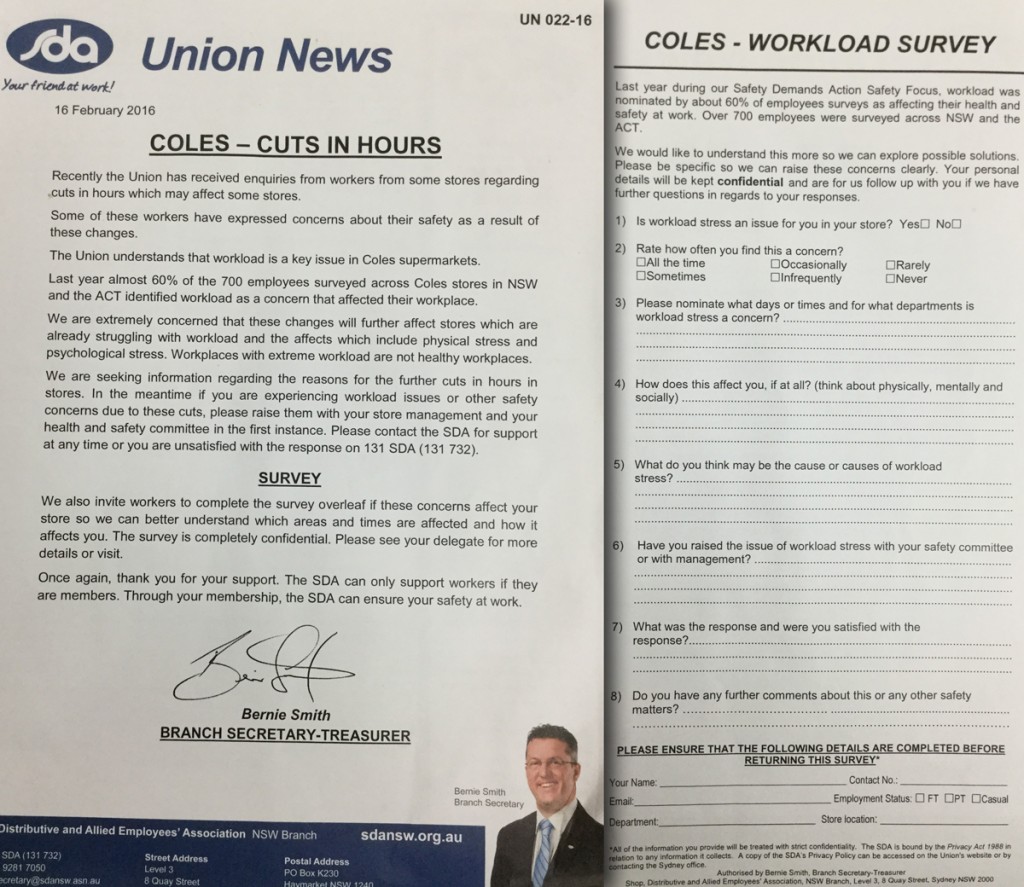 Hard-hitting stuff there, and a really great use of their exclusive access to supermarket break rooms (we've tried putting up some notices of our own in there, but they were taken down at the order of Coles, "quietly, so it doesn't stir them up").
While other unions like the Meat Workers are fighting for your rights and your pay at every turn, the SDA's response to (accurate) concerns over their loving partnership with corporate giants is to put their hands over their ears and scream that they can't hear you.
Duncan Hart's hearing at the Fair Work Commission about the SDA's outrageous betrayal of their members is ongoing, and the Meat Workers Union has thrown its full support behind him as part of a joint application in a Full Bench Appeal.
In the meantime, if you're a meat worker at Coles or Woolworths, and you want to speak to a union that is actually interested in hearing from you – contact the AMIEU today.